Walter Rothschild: The Honey and the Sting. Study Guide for Conversion to Judaism
A GUIDE FOR CONVERSION TO JUDAISM FROM A EUROPEAN PROGRESSIVE-JEWISH PERSPECTIVE
Many introductions into Judaism are available, but only few teach about how to become Jewish and how to practise Judaism every day; almost none describes this from a European Progressive ­Jewish perspective. This book fills this gap. It is based on materials ­circulated under the title "Jewish by Choice" used in European Jewish ­congregations for several years, written by a Progressive Jewish rabbi for his students. In the appendix it contains a list of possible questions that the Beit Din may ask and some test-yourself quizzes. Written with love to Judaism and British Humour.
978-1-910752-18-0 Hardcover, 170×244, 564 pages, 55 £
978-1-910752-15-9 Paperback, 170×244, 564 pages, 34 £
Also available for kindle e-book reader.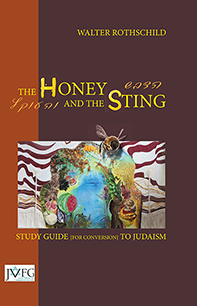 [Nicht im deutschsprachigen Buchhandel erhältlich.] Erhältlich im englisch-sprachigen Buchhandel oder via amazon.
---
Al ha-d'vash ve-al ha-oketz : for the honey and for the sting … The song that inspired the title of this book: